Architectural Handrail Systems Manufacturer – PRL Glass
Leading All Glass and Aluminum Handrail Manufacturer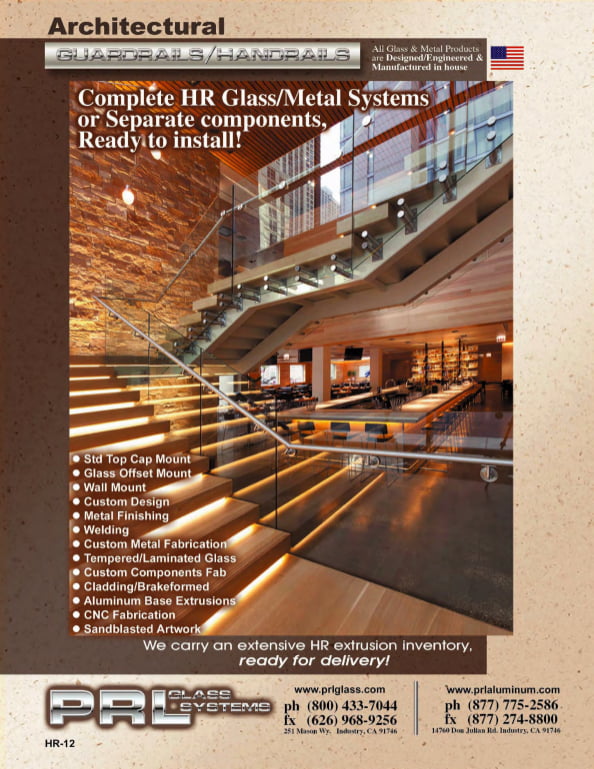 PRL located just outside Los Angeles, California offers complete state of the art all glass railing, handrails and guard railing systems. We manufacture and extrude most of the railing components in house. Consult our all glass hand railing staff for special design and engineering. Our team is ready to go work for you. Send us your glass handrail specifications and let PRL take care of the rest! All you have to do is the installation.
At PRL Glass we in house manufacture complete handrail systems, options to fit all your architectural guard railing and handrail design needs:
Dry & wet glazed guard and hand railing systems.
Stainless steel post support or stand offs systems.
Manufacture of ASTM 6063 T5 or 6005 T6 Aluminum guard and railing systems
Offering Large varieties of glass handrail styles and design specifications
Architectural manufacture of Std top cap mounts
Specifications Glass offset mounts
Leading Manufacturer of all Wall mount systems
Specializing in Architectural Specifications and Shop drawings to meet all your one stop shop manufacturing needs
Custom Engineering and Design (send us your dimensions and we will take care of the rest)
Because all of our handrail systems, components and hardware are manufactured in-house we give you the advantage of competitive pricing and fastest lead times in the industry. Why waste time shopping around when you can order all your glass and hand railing materials from one source!
Please feel free to contact our technical handrail and architectural design department for answers to all your manufacture needs Toll Free 877-775-2586.
Complete Handrail Manufacturer, Specs and Designs
Traditional Wet Set Handrail Systems and Architectural Specifications
Wet-glazed handrail system details
High compression cement
Conventional wet glazed installation
Rapid High and Low Profile Handrail Systems offered for Dry and Wet Set Applications
Standard and Mini Rapid Base Shoe PLMRDSHRB Architectural Handrail Specifications
Dry-set Handrail Base shoe PLDSHRB specifications
Precision Bolt Assembly
Fast, easy to install!
Aluminum anodized – clear and dark bronze
Clad – Stainless / Brass polished or satin
Proven Labor Saver
Dry-set Handrail Base shoe
More economical (less weight)
Lighter (easier on for the installer to move around)
Mounting pressure plate for dry set (no special tools required)
Interchange cover plates (for both applications)
High quality anodized covers (no break line)
We can not be beat when it comes to anodized price and quality!
Easy drop in covers without tape or silicone
Easily replaceable covers in the event of damage or color change
Infinity Series Aluminum Guardrail and Handrail Architectural Specifications
Infinity Handrail Architectural Specifications
Floor Post Mount Systems
Aluminum Modular Railing Systems
Standard Glass Railing and Guardrail Systems
Topless Glass Railing Systems
Glass and Aluminum Fencing Systems
Glass Pool Surround Systems
Wind and Privacy Wall Systems
Architectural Glass Gate Systems
Custom Guardrail / Handrail Specifications all Engineered to provide maximum strength using: ASTM 6063 T5 or 6005 T6 Aluminum
Elegante Stand-off Railing Systems, Handrails and Guardrail Architectural Specifications
Flat End Cap Elegante Architectural Railing Systems and Specifications
Round End Cap Elegante Architectural Railing Systems and Specifications
Offset Surface Mount
Flat end cap systems
Round end cap systems
Stainless Steel Tubing
Stainless Steel Stand Off Base and End Cap with Mounting Plate
PRL offers customized manufacturing to fit the most contemporary stand off railing systems
Flex Post Handrail/Guardrail System
PRL's "Flex" Stainless Steel Railing is the ideal solution for numerous interior and exterior railing applications.
FLEX POST System is a very attractive and versatile railing system providing the designer a wide variety of creative options. The sleek posts are manufactured from stainless steel tubing, making them very strong and suitable for interior or exterior applications. Because of their unique "flexible design" they are well suited for use where special angles are required. A radius appearance can be achieved using flat glass with the posts located at segmented positions. Designed for use with ½" tempered glass or 9/16″ tempered laminated glass the FLEX SYSTEM provides the strength and protection of a rail system with a clean, contemporary look. Posts are provided ready to install with glass fasteners attached. Powder coated finishes are also available upon request. We welcome your inquiries for more information or quotations.
Glass Railing Illuminated by LED Lighting
PRL's Rapid Railing System is breaking boundaries in innovation by integrating LED strip lighting for ambiance design concepts in residential and commercial projects. This allows you to now create your handrails and guardrails as the focal points of your showcase. Low iron glass is recommended for the best results.
The Rapid's top cap and bottom base have raceways which allow for LED strip lighting installation.
Also by adding a simple remote controlled PWD LED dimmer (using a 60W plug in power supply) you can easily bring light to your custom railing at any time and from anywhere. This railing system is very simple, fast to install, and a money labor saver. Our goal is to supply the glazing contractor with a fully customized and complete railing system. We are able to handle the entire job for you. Our railing division staff is ready to assist you on your next project. Please send us your dimensions and we will take care of the rest.
The Rapid Railing System performs like no other and is proven to be a money saver!
PRL Glass prides itself as being your One Stop Shop and leading In House manufacturer of all architectural glass and aluminum handrail systems, components and hardware.
 For Complete Handrail Specifications, Estimates and Orders Please Call Our Design Department
Phone Toll Free (877) 775-2586
Fax Toll Free (877) 274-8800
14760 Don Julian Rd., Industry, CA 91746